Navion Garmin Flight Deck
Garmin's G3X system along with the very capable G650xi brings a new future for this Navion, Integrating this to an STEC 55X autopilot makes the future bright for this iconic aircraft.
This panel upgrade in the A36 Bonanza provided a reduction of 35lbs and creation of panel real estate means this Bonanza is now a very efficient platform. This will serve the...
Learn More About This Project
Combining decades traditional equipment with Today's Brand New systems; we've taken on installing a gorgeous Dual G5 System for a digital Attitude Indicator & a digital Horizon Situation Indicator (EHSI). Along...
Learn More About This Project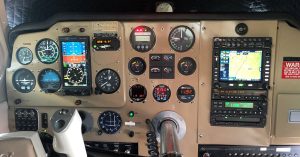 This Aspen/Avidyne Upgrade is a proficient IFR pilot envisioned this significant integration. Using the power of an Avidyne IFD 540 Navigator and the capable Aspen PFD/EHSI this aircraft is ready for...
Learn More About This Project